Articles
Tinytags monitor temperature of bat hibernation sites
Tinytag data loggers are used in bat hibernation sites to monitor seasonal temperatures.
Temperature is a critical factor for bats choosing hibernation sites. Monitoring with data loggers provides essential information for conservation research, and the provision of new hibernation sites.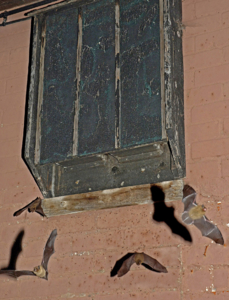 The Norfolk Bat Group was formed in 1961 and was the first county-based bat group in the UK. This small organisation undertakes observations and records the distribution of bats in Norfolk, and gets involved with conservation work on bat breeding and hibernation sites.
Bats choose very specific temperature and humidity parameters for the places in which they choose to breed or hibernate. To monitor the temperature, the Group started using Tinytalk data loggers back in 1994. Bats need a winter hibernating temperature below ten degrees, and ideally less than six degrees, but there is a variation of temperatures within the cave, tree hole or old building for different species, and at different stages of hibernation - i.e. as the winter progresses bats have less of their special brown fat to sustain them, so they move within the roost to find lower temperatures so their fat store lasts longer.
It is particularly important to understand temp/RH conditions, as well as other parameters such as light, in order to replicate these in terms of mitigation, or making new breeding or hibernation sites. Bats in the UK are protected under European law as a European Protected Species. Mitigation aims to offset likely damage caused by development/building work/re-roofing etc., by providing bat boxes, other new roosting sites or feeding areas to help offset any potential damage to the species or its habitat.
For example, 22 years ago the local Fisheries Manager was having trouble sleeping with a bat colony shuffling about in the roof space above her head. The Group obtained a licence to block the colony out of that roof, once they had produced their babies and flown off to hibernate elsewhere in the late autumn. The mitigation provided was two special new bat boxes situated near the river on an outhouse wall. The colony took to the boxes the next spring and has used them ever since, the longest used breeding bat box anywhere in the UK.
An extra box was recently added to site, which was tested using the Tinytalk data loggers to confirm the newer, lighter box design would heat up in the sun to the same extent as the old one: the recorded data confirmed that it did.
The Group initially chose Tinytags as at the time they were new and unique technology: the loggers proved to be small enough to hide in the habitat, waterproof and fully reliable.
Group Chairman John Goldsmith has used Tinytags in both his work as an ecological consultant with Aurum Ecology, and in the voluntary field with the Norfolk Bat Group. He has found the data loggers to be the only reliable electronic tool for investigating the micro-climates in which bats can breed and hibernate successfully.
John comments, "The fact that some loggers purchased back in 1994 still operate is surely a tribute to their build quality! Staff at Gemini Data Loggers were particularly helpful in our early days when we were learning how these instruments worked and advising on best usage, and at that time I was told that we had usefully contributed to the company's development work."
The image shows a bat box with a colony of approximately 300 Soprano Pipistrelles (plus 300 babies by late June) each year for the past 22 years, which has been monitored with Tinytag data loggers.
Contact Us >
Get in contact with us by email:
sales@tinytag.info
Alternatively you can call us on:
+44 (0) 1243 813000