Millivolt input data logger with input lead
Product description
Replaced by Tinytag Instrumentation: TGP-4703, TGP-4704, TV-4703 & TV-4704
The TGPR-1001 is a millivolt input data logger that is supplied in a robust, waterproof case. It monitors voltage from 0 to 200mV and can be connected to a variety of sensors to make specialist data loggers for a wide range of applications, including, for example, pressure. It can also be used for battery monitoring.
This unit is supplied with an input lead (CAB-3246). Alternatively you can buy our 2-pin connector plug (ACS-9700) to connect to your own probe/sensor.
This logger requires Tinytag Explorer software and a USB cable (CAB-0007-USB).
Features
Milli-volt logger
0 to 200mV
Case waterproof to IP68
CAB-3246 input cable supplied
64,000 reading capacity
Delayed start option
3 stop options
2 user-programmable alarms
Transfer function programming software
Tinytag Explorer Software
This is the easy to use Windows program needed to configure the logger and present the data. The Tinytag Explorer software licence allows unlimited users on one site.
Find out more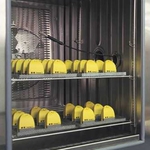 Calibration Certificates
You have the option of purchasing calibration certificates with our loggers. If you don't order calibration, we guarantee the accuracy figures on our datasheets at the point of purchase.
Find out more
Help & Support
Technical support information including FAQs, manuals and documentation for this data logger
View More
Service Calibration
Calibration certificate from
Includes calibration, plus replacement of batteries and seals/desiccant packs (if present)
Book it now