Tinytag Dry Shipper
CR-0100
Cryogenic data logger with integrated PT1000 probe for use with nitrogen dry vapour shippers
-200 to +100°C
Includes probe
Specialist ultra low temperature data logger with an integrated PT1000 probe (252 mm length, 3mm diameter) to use with a variety of cryogenic vessels.
Housed in a splashproof IP65 case, the unit can be mounted to the flask's lid with the probe inserted through an insulating plug into the tank. It has a digital display of current readings and user programmable alarms that will trigger visual warnings when limits have been exceeded during transit.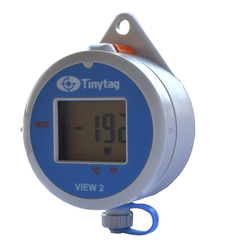 Tinytag Explorer Software
The logger is set up and recorded data is displayed in the easy to use Tinytag Explorer software. Data is downloaded to a Windows tablet or PC via a USB cable and is displayed in a graph or as a table of readings, which can be exported to popular third party software packages
Calibration
If your application requires additional validation to meet quality or industry requirements, calibration certificates traceable to national standards may be purchased. During calibration data loggers are compared to a reference meter that has been calibrated in a UKAS approved laboratory.
Features
Cryogenic temperature data logger
-196°C nitrogen dry vapour
Integrated PT1000 probe - 252 mm length, 3mm diameter
To fit a variety of flasks
LCD of current readings
Splash-proof case (IP65)
Visual alarm warnings
30,000 reading capacity
High reading resolution
Contact Us >
Get in contact with us by email:
sales@tinytag.info
Alternatively you can call us on:
+44 (0) 1243 813000