Energy logger kit, with small tear-drop coils (38mm diameter) to monitor single and three-phase power supplies.
Product description
The Energy Logger monitors voltage and current, and determines power and power factor. Peak and average values can be recorded. Voltage is measured via the standard mains lead and current is measured using non-invasive flexible coils. It can be used for spot checks or longer term recording. The small, tear-drop shaped coils included with this kit are ideal for monitoring in tight spaces or where space might be limited or restricted. The kit contains everything needed to start logging, including 3 small tear-drop Rogowski coils (38mm diameter), UK and EU mains leads, a USB cable and Tinytag Explorer software.
This kit is also available with standard coils (85mm) - TGE-0001 and with large coils (175mm) - TGE-0002
Please note: this product is only for sale in the EU and Australia.
Features
Energy logger with small tear-drop coils
Voltage, current & power readings
Non-invasive
Compact and hand held
Highly accurate
Records for 6 weeks
Safe and straightforward
Started without computer
Magnet for attachment
Tinytag Explorer Software
This is the easy to use Windows program needed to configure the logger and present the data. The Tinytag Explorer software licence allows unlimited users on one site.
Find out more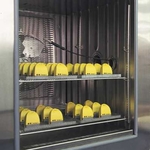 Calibration Certificates
You have the option of purchasing calibration certificates with our loggers. For the Energy Logger, calibration points cover a range of currents from 10 to 1,000A per-phase in both the single and three phase modes of operation. Voltage, power and power factor readings are also tested. If you don't order calibration, we guarantee the accuracy figures on our datasheets at the point of purchase.
Find out more
Help & Support
Technical support information including FAQs, manuals and documentation for this data logger
View More
Service Calibration
Calibration certificate from
Includes calibration, plus replacement of batteries and seals/desiccant packs (if present)
Book it now