Articles
PPE manufacturer uses Tinytag data loggers for quality control and quality validation
Protective glove manufacturer Midas Safety use Tinytag temperature and humidity data loggers to monitor the conditions required for compliance with quality testing standards including EN 388:2016 and ASTM F2992.
Reliable and trustworthy protective equipment is vital in the roles and industries that require it. Midas Safety have been manufacturing PPE (Personal Protective Equipment) for 35 years. Known as an OEM of gloves for industrial safety, the company is a leader in the field of protective clothing.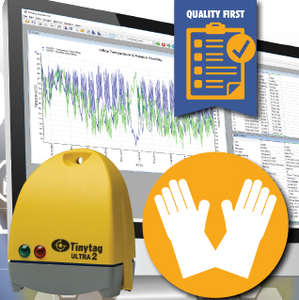 Because their products are used in critical applications, and are in many cases vital to ensuring the user's safety, Midas Safety must maintain stringent quality and technical standards in order to guarantee protection for those who use them.
The testing laboratory at Midas Safety is responsible for performing quality tests and maintaining the company's high standards, ensuring that produced gloves meet the quality requirements outlined by accreditation and legislative bodies regarding protective clothing.
Testing standards that the laboratory adheres to include EN 388:2016, BS EN ISO 13997 and ASTM F2992, all of which require specific temperature and humidity conditions to be realised before testing. Compliance with these standards is a requirement for Midas Safety to be able to sell their products in European and American markets.
To achieve the conditions, 23±2 °C for temperature and 50±5% for relative humidity, the testing laboratory use Tinytag Ultra 2 TGU-4500 temperature and relative humidity data loggers to monitor the levels and ensure that they are within the specified bracket for the quality and technical testing. When tests are started, the temperature and RH values on the data loggers are checked and recorded in workbooks. The data from each test is saved and a digital record is kept so that the laboratory properly complies with rigorous record-keeping requirements.
Data logging is essential for Midas Safety because it allows them to efficiently meet the conditions needed for testing with the accuracy guaranteed by Tinytags. Midas Safety's Laboratory Executive comments that the company is particularly pleased with how easy it is to refer to historic data and present it for verification.
Data logging has proved to be a convenient solution for enabling Midas Safety to fulfil their quality responsibilities. Traceable records, fast response times and assured instrument accuracy make Tinytag data loggers a straightforward choice for quality control.
Contact Us >
Get in contact with us by email:

Alternatively you can call us on:

+44 (0) 1243 813000

Data Loggers >
Monitor temperature, relative humidity, power usage, CO2, voltage, current and count with Tinytag Data Loggers.
View Tinytag Range